Harrison Senior Living Achieves Certification as A Great Place To Work!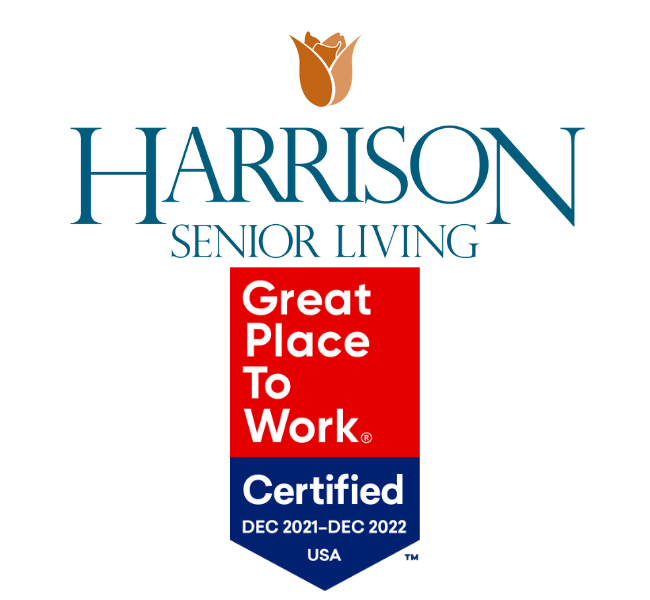 Harrison Senior Living, a family owned and operated healthcare organization is officially A Great Place To Work! In what has been arguably the most difficult time to work in a healthcare setting, Harrison Senior Living has succeeded in ensuring their team members are working in a positive environment with a strong culture.
The certification process involved surveying 100 percent of team members from across Harrison Senior Living's four locations plus their home office. The survey evaluated more than 60 elements of team member's experience on the job.  Rankings are based on employees' experiences, no matter who they are or what they do. Within the survey, employees have an opportunity to give personal feedback regarding how they feel the company could further improve.  From the survey, 85 percent of team members felt that they make a difference at work and that their job had special meaning. Overall, 71 percent of team members who participated in the survey felt that Harrison Senior Living was A Great Place To Work!
Harrison Senior Living offers award winning care spanning the continuum with communities located in Chester County Pennsylvania, Salisbury and Snow Hill, Maryland, and Georgetown, Delaware. With more than 330 employees, the organization continues to grow under the leadership of cofounders Dr. & Mrs. Harrison's grandson, Harrison Saunders as President & CEO. Saunder's shared his thoughts on the achievement stating, "Our industry was already very demanding but the last two years have been incredibly stressful, so the fact that 71% of our responses were positive is a great reflection of our team members' attitudes toward the work they do and the way they take care of each other. This designation not only reminds us of our values, keeping our existing team appropriately oriented, but will be used to help like-minded professionals considering joining our ranks.  I firmly believe that we have the most stable and capable nursing workforce in our markets, and they deserve to work alongside peers with the same high standards.  I strongly feel that this is a great sign of the good things that are to come in this new year."
The 2022 new year also brings with it 50 years in business for Harrison Senior Living. Their doors opened in 1972 with a skilled nursing facility in Christiana, PA.  As a family owned and operated organization, Harrison Senior Living remains true to their core values and empowers their team members to strive for the highest quality and standards.
To get a sense what life is like at Harrison Senior Living, check out their community Facebook pages by clicking below:
Harrison House of Chester County
John B. Parsons, Assisted Living