Benefits
At Harrison Senior Living we take pride in rewarding our employees with thoughtful, valuable, and worthwhile benefits that positively impact their lives and the lives of their families. Most, if not all, organizations claim to offer "competitive benefits". We believe, however, that with the feedback we have gotten from our employees we have been able to create an offering of benefits that is not only competitive, but meaningful. We think you will agree.
Health Insurance
Our health insurance plan through Independence Administrators is affordable and comprehensive. The network of medical providers is extensive. Employees are given the option of three different tiers of coverage so that they can choose which plan makes the most sense to them for their care and their budget. As a participant in Harrison Senior Living's medical plan you will also have access to Telemedicine and Tele-Behavioral Health services! Read more here: Telemedicine-Flyer  Tele-BH Flyer
Wellness Program
Our Employee Wellness program was created as a vehicle to assist employees in implementing healthy habits into their lives while earning discounts on their health insurance premiums. We recognize that healthy minds and healthy bodies are the catalyst to a successful working environment. Your health information is 100% confidential. Our employees who participate in this wellness program, could save $50 to $100/per month towards their medical deduction. For more information, please see click here. Harrison Senior Living 2022 Physician Screening GuideHSL Remote Screening Flyer
Medical Bridge
This valuable medical coverage allows our employees to "bridge" the gap in their deductible with a benefit of up to $1,500.00 for qualifying procedures in patient and out.
Dental Insurance
Through Sunlife we offer very affordable dental coverage that our employees have enjoyed for a long time.
401K Plan
Employees enjoy the benefit of a 401k plan at Harrison Senior Living which is automatically contributed from their bi-weekly paycheck into their retirement account, this includes a Roth option and a discretionary match by the company. We encourage participation with Automatic Enrollment for all qualifying employees. With this push in the right direction many of our employees are saving for their future retirement!
Life Insurance
All qualifying employees receive a free $25K life insurance policy. Those who qualify are automatically enrolled into this benefit. Of course, there is also the option to purchase Voluntary Life Insurance as well. Again, affordable coverage for employees at Harrison Senior Living.
Disability Programs
Our disability programs are very popular with our team at Harrison Senior Living due to their affordability and flexibility. Our plan allows our employees to purchase these disability programs at different levels and cost increments to suit their needs and needs of their families.
Bonus Options
Our employees can earn a bonus up to $500.00 when we hire a candidate that they have referred to Harrison Senior Living when that employee remains with the company for at least six months.
Vacation/Sick/Personal Days
Harrison Senior Living offers a generous time-off program for those who qualify and pass the introductory period. Time is available as it is accrued and unused vacation time can be carried over to subsequent years up to a certain maximum.
Employee Assistance Program (EAP)
Our EAP provides unlimited phone access to legal, financial, and work-life services. It also includes up to four sessions with a counselor per person, per issue, per year as well as many other beneficial resources. Learn more here: EAP-Flyer
Legal Shield
Legal Shield is a newly implemented voluntary benefit that provides legal assistance and identity protection for our employees. This benefit has proven to be very popular at a very reasonable cost.
Daily Pay
No longer wait for Pay day! Cash it when you need it! Yes, you read it right, Harrison Senior Living has now partnered with Daily Pay through which employees will have access to their earned wages instantly. Read More About Daily Pay!
All Harrison Senior Living communities have earned the designation of "A Great Place To Work!" Read all about it here!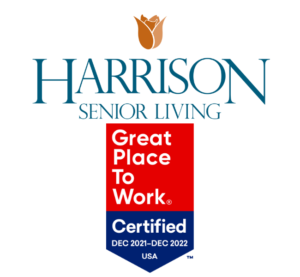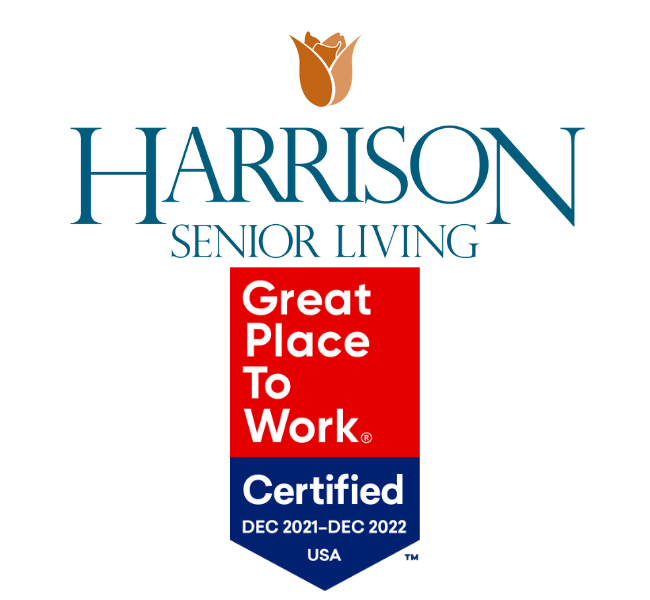 The Federal Transparency in Coverage Rule (TCR) requires health plans and plan sponsors to make in-network and out-of-network machine-readable files available publicly beginning July 1, 2022. You can access Harrison Senior Living's by clicking here.