Our Mission & Values
Harrison Senior Living has provided healthcare & hospitality services to seniors for over 40 years. Family owned and operated, we take extra pride and care in the services delivered. Our communities are committed to meeting the needs of residents in a loving, home-like environment.
Independent Living, Assisted Living/Personal Care, Memory Care, Skilled Nursing and rehabilitation are our specialties. A dedicated team of healthcare professionals listens to residents and their loved ones and strives to exceed expectations every day. We have locations in Southeastern Pennsylvania, Delaware, and the Eastern Shore of Maryland.
By offering such a continuum of care services and senior living options, we are able to develop programs that offer a positive impact on the health and wellbeing of our residents and the  communities we serve.
Mission Statement
Our mission is to create and serve communities through excellence in healthcare and hospitality! As caretakers, it is our goals to positively impact as many lives as possible. To do this, we strive to develop unique, community-centered opportunities in healthcare, hospitality, and real estate.
By observing our core values, we make sure to do everything possible to help residents and their loved ones find the support they need. Whether that comes in the form of our advanced skilled nursing programs, our rehabilitation services, our assisted living options, or our independent living communities, Harrison Senior Living is always looking for new ways to develop and nurture creatively caring communities for residents and guests alike.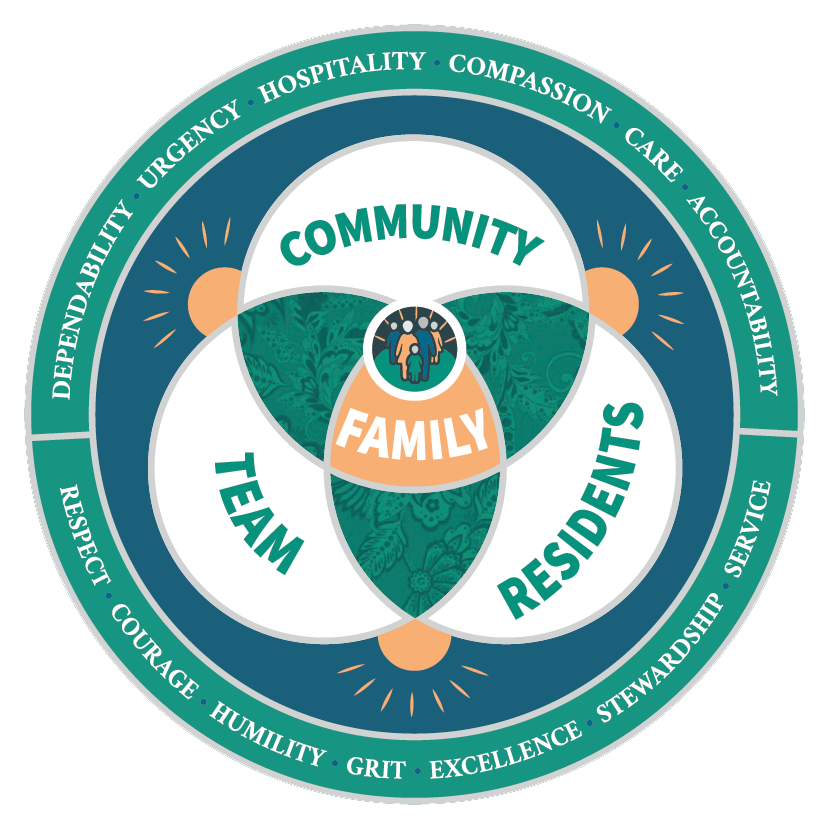 Our Values
We treat our RESIDENTS and guests with respect, compassion and empathy.
We empower our TEAMS to strive for the highest quality and standards.
We serve our COMMUNITIES within our buildings and outside among our neighbors, always exceeding expectations.
We maintain a FAMILY of support, service and excellence.