Harrison Senior Living Leaders Named Women Of Distinction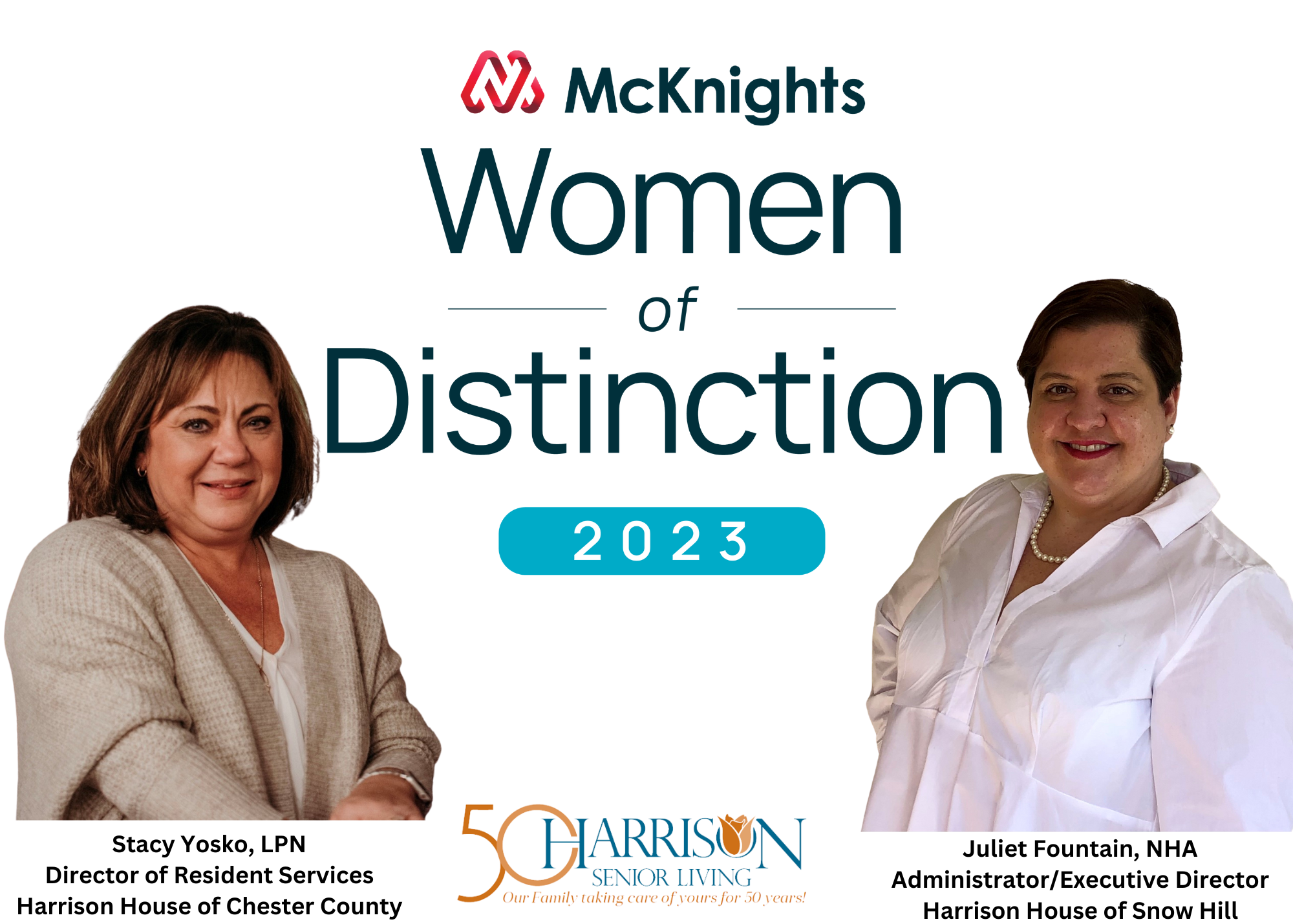 Harrison Senior Living is proud to announce that two of their community leaders have been selected as Women of Distinction by trade publication, McKnight's Long-Term Care News & McKnight's Senior Living. Stacy Yosko, Resident Services Director at Harrison House of Chester County and Juliet Fountain, Administrator and Executive Director for both Harrison House of Snow Hill and John B. Parsons Assisted Living. The Women of Distinction program, in its fifth year, recognizes women who have made significant contributions to the senior living or skilled nursing professions or who have demonstrated exceptional commitment to the fields.
Stacy Yosko has been a team member at Harrison Senior Living for 30 years. She began her tenure as a licensed practical nurse in 1992 at Harrison House of Chester County and since then has held a variety of leadership positions. In her current role, Director of Resident Services, Yosko leads the clinical team managing the daily care of all residents at Harrison House.  Her 30th anniversary with Harrison Senior Living was celebrated this past summer.  The Chester County Department of Aging acknowledged the milestone with a Proclamation written in her honor and she was awarded a Certificate of Appreciation from Pennsylvania State Representative Dan Williams' office.
Juliet Fountain holds a unique role for Harrison Senior Living as both an Administrator and Executive Director. Juliet joined the Harrison team in 2021 as the licensed nursing home administrator at Harrison House of Snow Hill in Snow Hill, Maryland.  Fountain successfully led the Snow Hill team in obtaining a 5-star rating from the Centers for Medicare and Medicaid (CMS) as well as the Silver-Achievement in Quality Award by the American Health Care Association and National Center for Assisted Living (AHCA/NCAL). The silver award recognizes providers that have exceeded quality measure benchmarks for improved outcomes for staff, residents, and individuals with disabilities in long-term and post-acute care facilities. Recently, she was also named Executive Director of John B. Parsons, Harrison Senior Living's Assisted Living community located in Salisbury, Maryland.  In both roles, Fountain is responsible for overseeing the daily operations of each community.
Frank Beech, Chief Operating Officer for Harrison Senior Living, shared "it is an honor to work alongside such intelligent and dedicated leaders. Their commitment to our residents and our team members has ignited a culture centered around compassion and sets us apart from the competition. I look forward to what Stacy and Juliet will achieve next as Women of Distinction!" The Harrison Senior Living team has had other leaders awarded Women of Distinction. In 2021, Kara Abdala, Corporate Director of Marketing, and Jean Bryan, Executive Director for Harrison House of Chester County were named in the Rising Star and Veteran VIPs category respectfully and in 2022 Dr. Susan Levy, Medical Director for Harrison House of Georgetown was selected in the Veteran VIPs category.
Both Yosko and Fountain are honorees in the Veteran VIPs category for women having more than 15 years of experience in the industry. They are two of sixteen women chosen in this category by a national, independent panel of experts for McKnight's. Overall, 26 states are represented by the honorees across all categories. All winners will be honored at an in-person celebration on May 22 in Chicago. To see the full list of inductees, and for more information about the program and to register for the events, visit www.mcknightswomenofdistinction.com.